MASTIFFS OF THE PAST PRESENT AND FUTURE
All photos are Thumb nails, click on them to enlarge.
English Ch Devil of Wayside



Bred by David Thornsbrough, Rossville, Illinois, USA
owned by Elizabeth Degerdon, Wales, The United Kingdom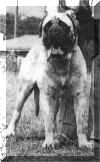 CH. Daredevil of Hollesley



CH. Daredevil of Hollesley to the left, second from the left litter sister CH. Devil Dancer of Hollesley, next is their litter-brother CH. Devil's Advocate of Hollesley and to right is their father; CH Devil from Wayside



CH. Copenore Rab and CH. Hollesley Macushla's Dagda



Milf Murias and CH. Hollesley Macushla's Dagda



Pictured above is a grand son of the English Devil of Wayside ( Ch Assasin of Wayside )
Ch Assasin of Wayside and 2 of his get ( Ch Silver Mist of Gilliland and Ch Magnum of Gilliland )



Eng. Ch Hollesley Medicine Man



Magnum is owned by Dale Popovich and resides in Stroudburg



Ch. Jakote Lady Glencora



Ch. Forefoot Prince of Darkness



Ch. Forefoot Prince Igor of Bredwardine



Hollesley Rowella and Medicine Man



Sir Galahad of Delaval
born in 1929 , out of
Bill of Havengore X Gyda of Delaval.



Ch Joseph of Hellingly
born in 1925 and won a CC at the ripe old age of 9.
The above 6 photos above were provided by Kaye Langshaw



Photo of Cannonbury Autobiography, a dog from England.
Sylvia Shorter now lives in Capetown, South Africa, this page is from an old 1975 English Dog World Journal.

AMERICAN OLDIES


Greiner Hall Olav of Atheney and Bard of Athelney
both sired by Hollesley Lord Raleigh and owned by Fiona Zahnke


Ch Quellwater Britannia
owned by Fiona Zahnke


Greiner Hall Atheney Hannah 12 months
owned by Fiona Zahnke



Groppetti Easter owned by Constance Parker, bred by Patty Groppetti.



Ch Lionsire Poldark, AKA ,"COOKIE MONSTER"



Am Can Ch Mylar's Xerxes, AKA "Zeke", owned my Lori Dobrucki
bred by Myra V. Lewisi



Mario Gutierrez and some of his Mastiffs. " Godfree " above weighs 265lbs

MASTIFFS OF DISTINCTION
MASTIFFS FROM THE UNITED STATES AND FROM ABROAD
THAT ARE ALIVE AND WELL TODAY
Below are photos and information given to me by the owners of these dogs to be placed on this site.


Champions of Silver's Mastiffs

Ch. Belles Captin Hook


Mary Alexander
MCOA member
Semmes, Alabama



English Mastiffs...What the Lion is to the Cat, the Mastiff is to the Dog


Ch. Moonshine Maeve of Rohirrim,
6 1/2 yrs old & her daughter
Ch. Annabel Leigh of SilverMoon


Stephen and Robin O'Connor
We have produced seven champions:
Ch. Maximillion's Tailor-Made
Ch. Maximillion's Sherman-Tank
Ch. Maximillion's Sir Bentley
Ch. Sir Winston Churchill III
Ch. Von Roth's Goal Keeper
Ch. Celtics' Sweet Sam
Ch. Maximillion's Sherman-Tank finished with a Best of Breed right out of his class and has over 20 Best of Breeds on him and he has just turned two. He also ranked 7th last year (97) for Top Mastiffs.

Ch. Maximillion's Walkabout Tess


Skamania Mastiffs
Dave & Tami Kuhn
Stevenson, WA 98648

Blacknight Mastiffs
LaVelle Knight
Ch. Blacknight Victoria O School reserve winners bitch at national 1982 in Newark and Number one bitch of the year.
Povrlrd Kennels Home
Copyright © 1997- 2011
Last modified: March 06, 2011



God Bless America, United We Stand